Random image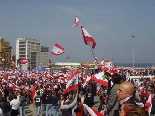 Beirut demonstration against Syrian occupation



CEDARS
---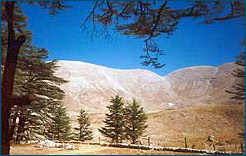 Around 120 kilometers north of Beirut, the Cedars, known as " Cedars of the Lord", is a biblical forest of an elevation of over 2,000 meters, and one of the most beautiful spots in the country. It is Lebanon's greatest treasure. The majestic Cedar tree presents the emblem of Lebanon. In the ancient world, Cedar trees were claimed enormously, particularly during Pharaoh's Age, because they provided long beams for ships masts, and offered a unique wood around the area. Exploited by many civilizations throughout the centuries, they are strictly protected by the government today and a number of reforesting projects are in progress. Once stretching across the peaks of Mount Lebanon, there are today some forests featuring Cedars dating back as much as 3,000 years.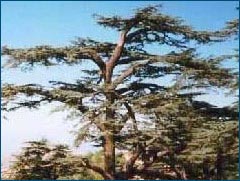 The Cedars village is now a ski resort that offers the most complete combination of slopes, valleys and exposures. Furthermore, it has chalets, hotels, ski lifts and varied night life. Tourist will surely enjoy their stay and seize the opportunity to visit Qadisha Grotto which is nearby, known for its stalactite and stalagmite formations. Moreover, they can explore Bsharre, the birthplace and resting place of Lebanon's celebrated philosopher-artist-poet Gebran Khalil Gebran.
About a kilometer further on is the famous cedar grove where the road is lined with the inevitable souvenir stands and small restaurants. The same road continues to the ski area at 2,066 meters and goes over the mountain and down into the Beqaa valley.
The Cedars is a resort for all seasons. In summer the high elevation make it wonderful escape from the humid coast while in winter skiing is the favorite activity.