Random image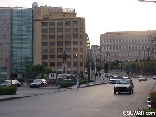 Beirut near UN



FAQRA
---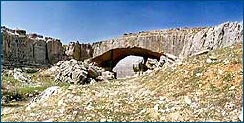 On the northwest slopes of Mount Sannine (2,548 meters), against a still wild scenic background, water thunders out from two mighty springs, Nabeh el Laben and Nabeh el Assal (the Spring of Milk and the Spring of Honey), and then cascades tumultuously down the two steep valleys of Kafar Zebbian and Faraya.
Just above the waterfall where the river tumbles out of Nabeh el Laben, there stands a Canaanite temple dedicated to Astarte, the mother goddess who was the symbol of fertility.

Only a few meters away from this shrine there rises a large Roman temple of the 2nd century A.D., 30m long by 16m wide. In front of it there is a rectangular courtyard, built up on one side and on the other side level with the virgin rock. A grandiose peristyle of six Corinthian columns of 2m diameter each, like those of Baalbeck, overlooks a sacrificial altar and a cella of great hewn blocks. This temple was dedicated to the God of Gods.

Somewhat to the north of these constructions, one sees a splendid natural bridge, one of the greatest in the world with its 50-metre span, that overhangs a basin full of enormous blocks of stone that have crashed down from the sides. A keen eye easily discovers fossilized seashells embedded in the surrounding strata, dating back 200 million years.

Faqra is home to one of the country's ski resorts and one of the world's oldest private ski clubs.