Random image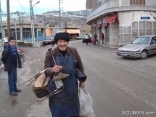 Dhour Choueir



HAMRA
---

Hamra Street or Rue Hamra is one of the main streets of the city of Beirut, Lebanon, and one of the main economic and diplomatic hubs of Beirut. Due to the numerous sidewalk cafes and theatres, Hamra Street was the centre of intellectual activity in Beirut during the 1960s and 1970s.

Before 1975, Hamra Street and the surrounding district was known as Beirut's trendiest, though in the post-war period it has arguably been eclipsed by Rue Monot in Ashrafieh, Rue Gouraud in Gemmayzeh, the fashionable Rue Verdun and the lavishly rebuilt downtown area.

In the mid 1990s, the Municipality of Beirut gave a face lift to the street to reattract tourists all year round.

Today it is a commercial district with a number of hotels, furnished apartments and coffee shops, with "78. Street" (commonly known as "the Alleyway") being Hamra's main pubbing and clubbing hub.