Random image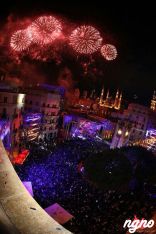 Downtown Beirut New Year's Eve 2018



DEIR AL QAMAR
---

A visit to Beiteddine should be completed by a stop at Deir Al-Qamar, declared a World Heritage site by UNESCO. Deir Al Qamar is many centuries old and preserved its grand feudal architecture, old stepped streets, and walled gardens. Its stone houses with red roofs are perched on abrupt slopes. The town remained the residence of the governors of Lebanon until the 18th century, when Emir Bechir II Chehab moved the capital to Beiteddine.

The huge public square or midan with a large fountain in center, which was originally used for jousts and other equestrian contests, is surrounded by historic buildings.
In the square itself is Fakhreddine's Mosque, constructed in 1493 and restored in the 16th century by Emir Fakhreddine I Maan for his Muslim mercenary soldiers.

Behind the mosque is a 19th century leather-worker's Souk or market, which today houses modern shops. The Silk Khan or Qaissariyyeh, located north of the Emir Yousef Chehab Serail, was built in 1595 during the reign of Fakhreddine II. It was designed in the classical Khan or caravanserai style, and originally used as a public market place for jewelry and for silk. Today the khan makes a unique setting for cultural activities. Nearby is the synagogue, which was built in the 17th century to serve the local Jewish population. The Kharj Barracks is a massive structure built by Fakhreddine II in 1616 as a munitions warehouse and barracks. Now restored, this monument is the stunning setting of the French Cultural Center.